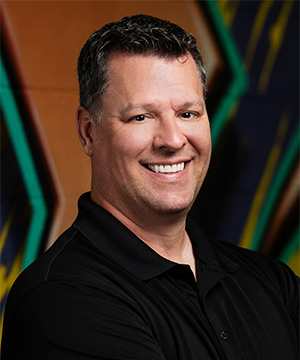 Ryan Cotton
President & CEO
Ryan Cotton currently serves as President & CEO for Rock Steady Boxing. His involvement with the organization goes back to 2009 where he served on the Board of Directors for a decade. Although he serves all RSB boxers around the world, his favorite RSB boxer is his father.
Ryan's education is in physical therapy where he had a 22-year clinical career before moving into his role at RSB. He holds a Masters in Physical Therapy from the University of Evansville, and a Doctorate in Health Science from the University of Indianapolis.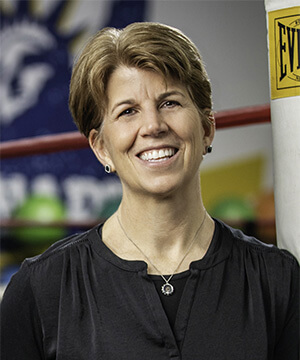 Connie Fiems
Chief Scientific Officer
Dr. Fiems has a bachelor's degree in exercise science, a master's degree in physical therapy, and a Doctor
of Health Science in physical therapy. Dr. Fiems was a full-time practicing physical therapist for almost 20
years before returning to school for her DHSc. She then joined the faculty at the University of Indianapolis
in the Krannert School of Physical Therapy for 7 years prior to becoming the Chief Scientific Officer at
RSB in January 2023. In addition to teaching, she also completed research related to fitness and balance
in people with neurologic conditions. Dr. Fiems continues to practice physical therapy part-time and is a
board-certified neurologic clinical specialist and a certified exercise expert for aging adults. When not
working, Dr. Fiems is a fan of all sports, both watching and playing. She has always been a dog lover,
specifically Golden Retrievers but recently became a cat lover too with a recent addition to the family!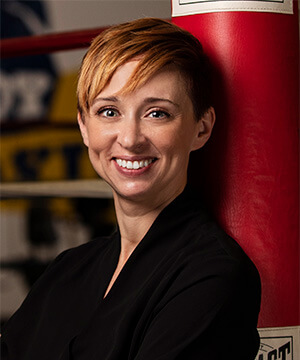 Chelsea Miller
Director of Development & Operations
Chelsea has a passion for boxing and physical fitness. She loves to see the empowering and positive benefits of physical fitness in people's lives.
Chelsea has been with RSB since February 2014. She started as an Administrative Assistant and worked as Affiliate Services Manager in Development & Operations. She oversees day-to-day operations, implementation of policies and procedures, and new directives. She is also responsible for developing and executing fundraising initiatives at RSB, Inc. She resides in Indianapolis, IN, and enjoys bike rides on the Monon Trail, hanging out with her son Charlie and husband Ben.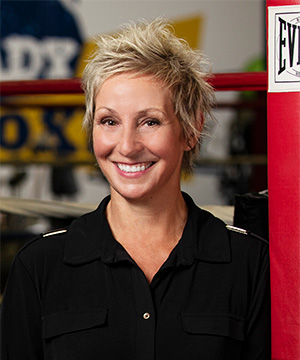 Christine Timberlake
Director of Training & Education
Christine has been with Rock Steady since 2006. Her husband, Tom, was diagnosed with Parkinson's in 2000. Exercise has always been a constant in both Tom's and Christine's lives. Christine has been Tom's care partner and understands all too well the needs of people struggling with Parkinson's.
Having trained hundreds of people with Parkinson's as well as being immersed as a care partner has given Christine a uniquely intimate perspective on how to battle this disease. In addition to being a phenomenal athlete (and boxer!), Christine is an experienced lifeguard, swimming, and aerobics instructor. She is a Certified Personal Trainer through the American College of Sports Medicine and her personal experience is an instrumental part of Rock Steady's "Cornerman" support.
A third-generation artist (Degree in Fine Arts – Herron School of Art and Design) and jewelry designer by trade, Christine has made many custom-designed Rock Steady jewelry pieces which are worn proudly by friends and family of the gym.
Sara Roque
Director of Affiliate Services
Sara Roque is RSB's Affiliate Services Director.
She was made aware of Rock Steady in 2016 after several years in the fitness industry. She was drawn to RSB and helping those with Parkinson's because her uncle had the disease.
Sara has a degree in Human Services, enjoys traveling, food, sports, and Netflix documentaries. She lives in McCordsville with her husband, son, and dog.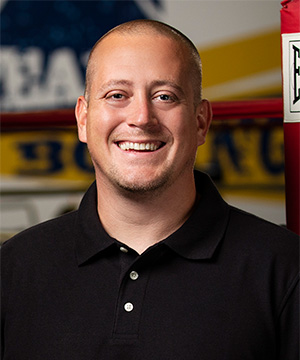 Anthony Elias
Sr. Affiliate Specialist
Anthony has been an part of Rock Steady Boxing since 2016, collaborating with both U.S. and international affiliates. His passion lies in working with individuals across the globe to combat Parkinson's disease.
Beyond his role at RSB, you'll find Anthony immersing himself in Notre Dame football games, savoring classic rock tunes, and cherishing moments with his niece and nephews.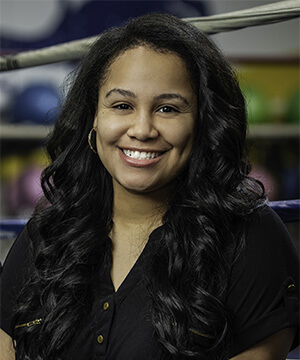 Carice Kirk
Coordinator of New Business
Carice started at Rock Steady Boxing in January 2023 as the Coordinator of New Business. In that role, she serves as the point person for anyone interested in starting a new affiliate program and works with all new affiliates throughout their first year to help them build a strong foundation for their program. Carice says she loves meeting new people and is excited for what's yet to come with her career at RSB.
Carice has a B.S in Nursing, and she enjoys traveling, vegan food, and reading. She resides in Indianapolis, IN where she enjoys evening walks with her husband around town.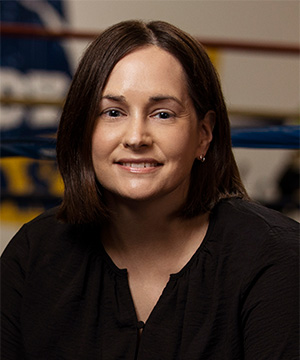 Jessica Eckelbarger
Coach Manager & Head Coach
Jessica was diagnosed with Parkinson's disease in January of 2019 and joined RSB as a boxer a month later. She soon began volunteering in classes and then joined RSB as an assistant coach in January of 2021. In October of 2021, Jessica received her Personal Training Certification of ACE and is now a head coach and the assistant coaching manager at RSB HQ.
Jessica loves to be able to coach her fellow boxers and give back to the Parkinson's community. When Jessica is not at RSB, she enjoys spending time with her husband, three children, and golden retriever.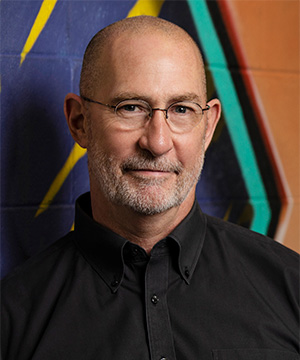 James Todd
Sr. Head Coach
My name is James Todd. I'm currently one of the head coaches at the Indianapolis gym and have been working here for several years. I received my certification in January 2014, spent a few years as a volunteer, and was hired after that. I am a certified personal trainer through ACE with an additional certification as a Senior Fitness Instructor.
I enjoy working at RSB. It is always a fun and dynamic place to be, and I like meeting and getting to know the boxers who come to train with us.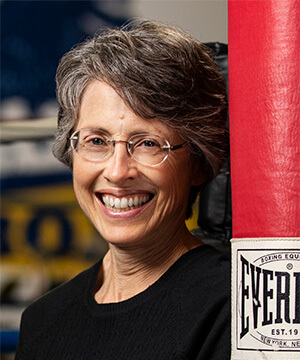 Marcia Wilson
Sr. Head Coach
In 2011, Marcia came to Rock Steady to observe a class and never left. So amazed by the program and the people, she volunteered for over a year, learning the ropes from the coaches, participants and care partners. After completing Rock Steady Boxing Training Camp in October 2012, Marcia joined RSB as a Coach for the PD3 and PD4 classes, where she continues to learn from each and every participant.
A 1982 graduate of Ball State University, Marcia went back for "round two" in 2007 and earned a Masters Degree in Gerontology and Wellness. Marcia's father had been diagnosed with Parkinson's disease and, subsequently, dementia with Lewy bodies. Learning to focus on what he could do (instead of what he could not) the entire family kept him moving, giving him a better quality of life throughout the disease.
Recognizing the importance of movement, Marcia became certified in Body Recall®, an exercise program geared toward extending independence for older adults, and also in Drums Alive!®, a rhythmic whole brain, whole body exercise program, and has been teaching ever since. She believes movement, regardless of age or health, helps maximize the potential of the brain and the body.
Unable to say no to a good adventure, Marcia has hiked the entire Appalachian Trail, bicycled from Indianapolis to Kansas City, and has participated in a 340 mile kayak race on the Missouri River! She has all the skills, tenacity and tough love found in a Rock Steady Coach!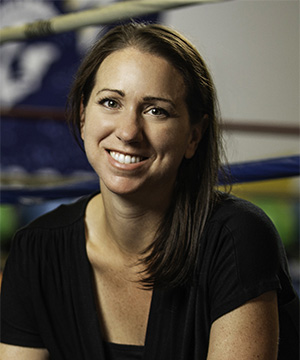 Elizabeth McWilliams
Head Coach
Elizabeth is an occupational therapist, who has been working with adults in the Indianapolis area since 2009. Exercise and sports have always been a large part of her life. Throughout her career, she felt the need to be more proactive in care and wellness for those she worked with. She became an LSVT BIG certified therapist in 2019. This, along with growing knowledge of fitness and its benefits, became the path leading to Rock Steady Boxing. She trained as a head coach and became part of the team in 2022. She has since been certified as a PWR!Moves therapist and continues to seek and learn new skills to bring to the gym.  Elizabeth holds degrees in exercise science from Ball State University and a master's in occupational therapy from Indiana University at IUPUI. When not working, Elizabeth enjoys being outdoors and spending time with her husband and three daughters.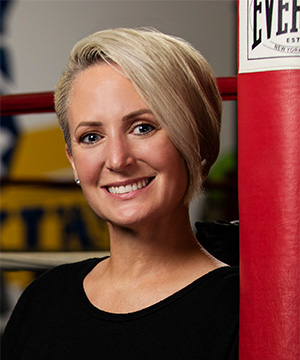 I'm a Rock Steady Coach diagnosed in 2019 with Parkinson's Disease. I am a United States Air Force military veteran, with 10 years of military service. My service time was honorable and memorable. As I transitioned outside of the military, I looked for the areas that I could most improve on; my knowledge and workmanship led to different leadership roles that combined health informatics, quality training and education, information management, business, and patient care procedures in diverse health organizations.  I have my bachelors in Healthcare Administration and my Masters in Health Informatics.
My diagnosis changed all my future plans, along with driving my desire to help others in need. My health and functionality to sustain became my forefront. As my training and research in physical health increased, I knew my voice and desire could help many more. Restoring muscle movement, circulation, and revitalizing sensitivity to any extremity is an important factor to movement. I've always felt that if one surrounds oneself with others who battle challenges, who are truthful about outlooks, and who open doors for others then one can value the gratefulness and experience positive outcomes.
In my spare time, I enjoy traveling, being outdoors, listening to music, smiling, and making memories.  I write poetry, sing car karaoke, and will be the first to say hi!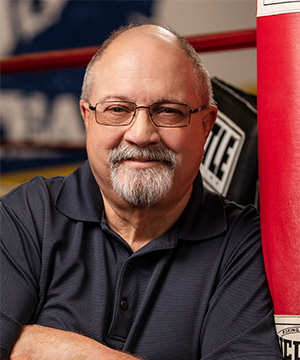 Dave Dean
Assistant Coach
I have been going to Rock Steady since February of 2016.  I started as a Corner for my wife Pam, then took volunteer training, and then became an assistant coach a few years ago.  I got my Eagle Scout award in Boy Scouts when I was 15 years old.  I attended Ball State University and graduated in 1973 with a bachelor's degree in General Business Administration.  I then worked in the Insurance industry for 43 years in underwriting retiring in 2016.  While in insurance I earned 8 professional designations.  My favorite sports team is the Colts. My favorite vacation destination is Texas to see the grandkids.  My hobbies include reading and spending time with my wife (Pam).  I am passionate about people and situations with a Christian belief.  I truly enjoy my job as I am hopefully making a difference for people with PD and at the same time supporting my wife.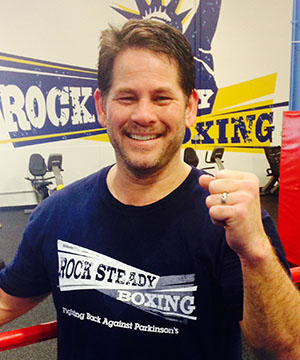 John Johnston
Assistant Coach
John Johnston has 30 years of experience as a trainer in the fitness and boxing world. He completed a degree in Professional Fitness and Nutrition at PCD Institute in Atlanta, Georgia, and owned and operated the Life Defense System, with a focus on martial arts and self-defense.
John has a special interest in Rock Steady Boxing because his brother was diagnosed with Parkinson's disease.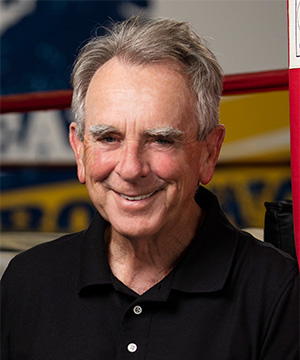 Jim Lynch
Assistant Coach
I married my high school sweetheart in 1968 while I was in the Air Force. We have three grown sons. I retired from the phone company in 2010 and started coming to Rock Steady that same year. It's the best thing I do. I get more than I give. I will keep coming as long as they let me.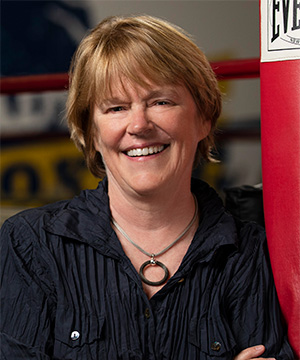 Elaine Cleveland
Assistant Coach
Elaine is a lifelong Indianapolis resident and is a graduate of Broad Ripple High School and Hanover College. She also holds a Masters in Social Work from IU. She enjoys Butler basketball, IndyCar, reading, gardening, music, art, and most of all, playing with my grandson Jack. Her favorite place on earth is Lake Wawasee. The coolest thing she's ever done is take a ride in the 2-seater at Indy with Mario Andretti at 184 mph. Becoming a volunteer at Rock Steady in 2015 is one of the best decisions she ever made. "The dedication, determination, sense of true community, and unconditional love found there is a joy to be a part of. Plus, it is really, really fun to hit stuff!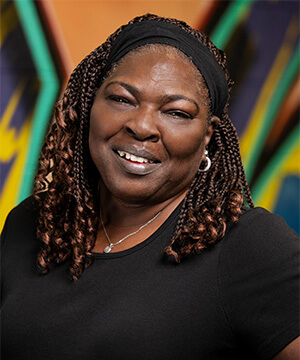 Nickita Brewer
Customer Service Representative
Nickita "Nickie" Brewer is one of Rock Steady Boxing's Fitness Center Associates. Nickie has worked for 23 years in the Administrative/Legal field. She has also worked in the past as a Correctional Sergeant at the woman's prison. Nickie retired from the State Government with 27 years of service.
Nickie is a mother of three children, and a grandmother of four. She enjoys working and making people happy. She has a wonderful smile and her personality comes out through that smile. Nickie is very involved with her church Praise and Worship Ministries and works at her church as an Administrative Assistant. She is also involved with the Dance Ministry and other areas of ministry where needed.
Nickie is really enjoying her time at Rock Steady meeting new people and is a wonderful addition to our Rock Steady family!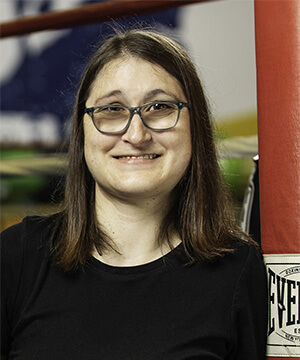 Stephanie Verbarg
Customer Service Representative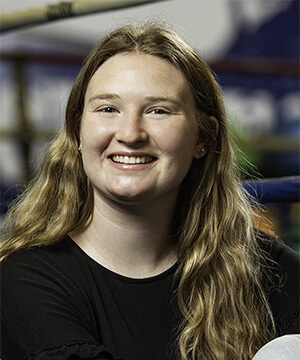 Liz Heidleage
Assistant Coach & Customer Service Representative
Liz joined the Rock Steady Boxing team in May of 2022 and soon after got assistant coach certified to help in classes. She cherishes the relationships she has built with the boxers and seeing the impact that the work done at RSB has on the Parkinson's community. When she is not at RSB she enjoys watching sports, especially Indiana University basketball, and spending time outdoors hiking and camping. Liz is currently a student at Indiana University-Purdue University Indianapolis (IUPUI) pursuing a bachelor's degree in exercise science.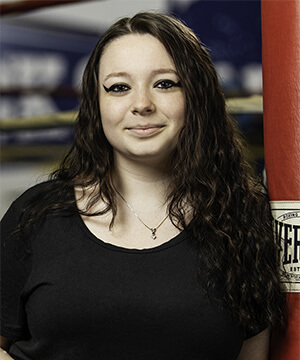 Emma Lucas
Assistant Coach & Custom Service Representative
I am a college student attending IUPUI studying Exercise Science as a bachelor degree and working towards a Doctorate in Physical Therapy. I love traveling and sightseeing. So far some of my favorite trips were to Hawaii, NYC and Italy. I have a puppy named Jovi. She is a mini Aussie doodle that I am training as a therapy dog. I have worked at Rock Steady for over a year and I love it here. Rock Steady has helped my family and I feel like Rocksteady has grown to be part of my family.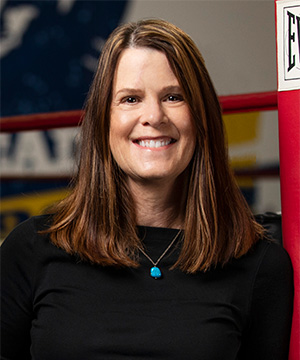 Sarah Sturgeon
Administrative Assistant
I joined RSB in March 2021 working 3 days a week. Once a week I help with class and enjoy working with the boxers. When I am not working, I enjoy traveling, gardening, and Hiking.