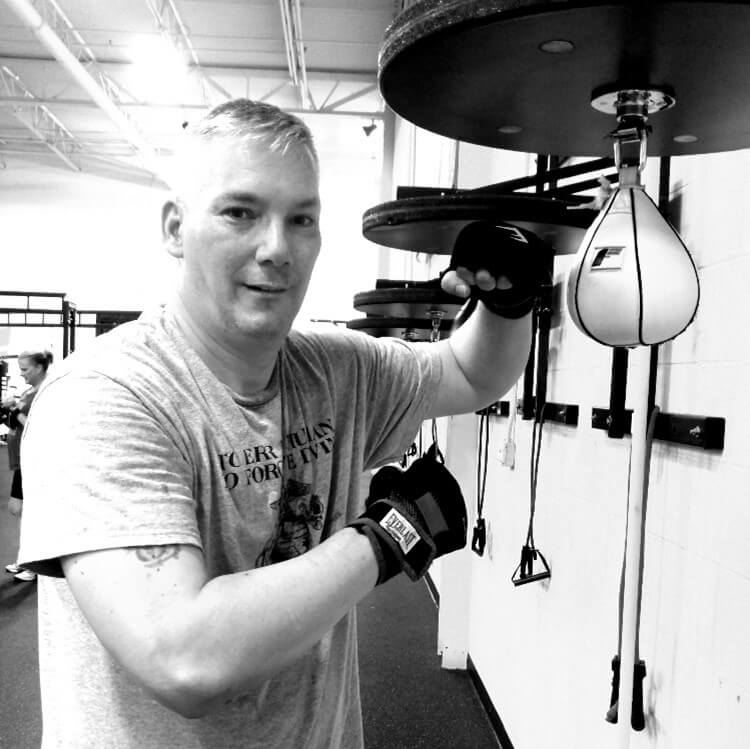 I was diagnosed with Parkinson's disease at 45 years of age.
I was basically told to go home and do what I enjoyed for as long as I could.
I was confused, scared, angry and wondering about what may lie ahead.
I felt from the beginning that Parkinson's had won the battle.
About five months later, I had two different medical providers tell me that I needed to check out Rock Steady Boxing. I wasn't sure it was something that I wanted to do. However, I decided to simply go talk to them. After I did, I decided I could give it a try. What could it hurt to go to one class?
Well, that one class changed my life!
I was hooked.
Rock Steady has shown me how to fight Parkinson's.
Between the classes and the people, I know that I am not fighting this alone. It not only helps me physically, but mentally with all of the support that I receive from everyone at Rock Steady Boxing. I was quickly accepted into the Rock Steady Boxing family. Now I try to reach out to others who may be just like I was when I was first diagnosed.
I want to let them know that there is hope and that we need to focus on what we can do and not worry so much about what we can't do. Rock Steady Boxing is more than just an exercise or boxing program, it is a way of fighting the disease that brings us all together.
- Guy Hendricks, July 2016
Guy Hendricks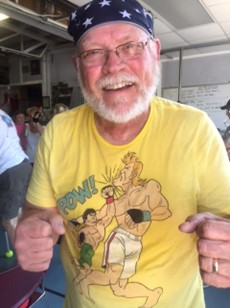 I just wanted to send a heartfelt thank you to each of you for the blessings you are and the incredible impact you've had on my life (and I know on all of us "Parkies" battling this damnable PD!).
My already diminished balance had gotten progressively worse over the past few months. I had begun to fall, actually about a dozen times. Because I kept falling, I had gotten a cane in order to be more stable and not end up in the ER or hospital with something broken.
Over the past three months, we have been hard at work in our Rock Steady Boxing routine here in Alabama and about three weeks ago I began to notice I was more stable, with no falls during the past three weeks.
I just left my neurologist after my four month follow-up appointment, and he did balance testing and was over the top about how much I had improved since he last saw me! He has been very supportive of our RSB program here in Huntsville, referring many patients to us and told me that he has seen similar strides with his other patients in the Rock Steady Boxing program.
I showed him a video on my phone from yesterday's class and he played it several times...he kept pointing at the video saying "Is that you with that crazy hat?" (He's referring to my do-rag of which I have many different ones for each class). I love being our class clown!
We now have 35 boxers and Coach Carolyn is getting on average 2-3 calls a day to set up new boxer assessments. As I said to our coaches the other day, stealing a line from Chief Brody, "we're going to need a bigger boat"!
- Jim Rhodes, RSB Rocket City
Jim Rhodes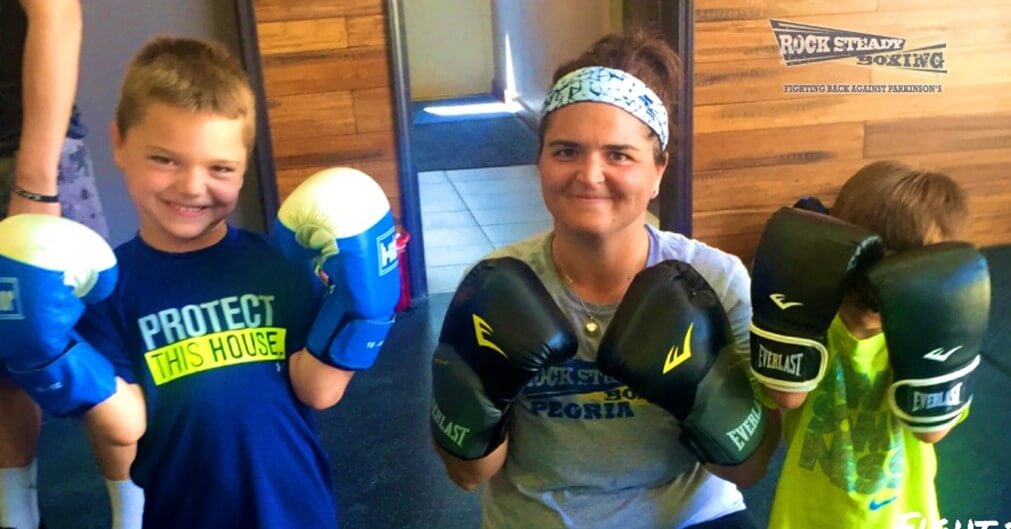 My name is Katie and I was diagnosed with Parkinson's disease when I was 20 years old.
To be given such a devastating diagnosis during my college years, I found it easier to deny the whole picture of what my future was to look like and inevitably become.
My symptoms were mildly present, but growing more and more physically uncomfortable. Even so, I continued to do my best to minimize any inquiries people may have had. At the time, it was extremely overwhelming and depressing for me to even think about having a diagnosis that I have always thought of affecting the elderly population. Additionally, I had no family history of Parkinson's. This added to my 20ish year old confused mentality.
Through the years, I continued to be in a state of denial. I sought out several opinions throughout my 20's, some of which included Mayo Clinic and a holistic doctor who diagnosed me with mercury toxicity. The diagnosis of mercury toxicity was something I held on to for several years. This was a much easier diagnosis for me to share with people whenever they inquired. For me, it didn't carry all of stigma like Parkinson's disease.
At age 27, I married my college sweetheart. A year later, I fulfilled my lifelong dream and became a first-time mom. It was a very physically challenging 9 months, but I was able to work up until the day I had my son, while being off of my medication. Three years later, I obtained my second lifetime goal and had my second son.
This time, however, I was very grateful to have been a stay-at-home mom because walking became difficult for me and I suffered overall from severe physical limitations because I was off my medication yet again. The three year difference of my disease progression from being off my medications was very interesting for me to put into perspective. Within those three years, it became evident to me that my symptoms had significantly progressed.
It has been 14 years since my initial diagnosis and because of Rock Steady Boxing, I have finally been able to accept my PD and feel safe in my own body.
After all these years, I decided that it was time for me to fight back and Rock Steady Boxing has allowed me to do this. My younger son is now three years old and I feel the best I ever have.
During the 9 months that I have been boxing at Rock Steady Boxing Peoria, I have gained the confidence I need to fight back against my symptoms. During my pregnancies, as well as time in which I had to transition medications, I had to use a walker. Now I can jump rope up to a count of 42. I would occasionally fall to my bottom because I would freeze as I attempted to pull open the fridge. I can now walk backwards on a 2x4 board as part of an obstacle course.
I am excited and look forward to going to my Rock Steady Boxing classes because I have learned that it helps me to feel better and fends off my symptoms. Rock Steady Boxing is my breath of fresh air – the place I go to and truly feel that everyone understands what these symptoms feel like and they understand my daily struggles.
Rock Steady is where I see the people that provide me with the endless amount of support that I need when days are hard and times are tough. Rock Steady is where I see my friends - where I get inspired when I feel like I just want to give up - where age doesn't matter because we are all fighting the same fight - we are in this together. We are a team. We are Rock Steady Boxing!
Katie boxes with RSB affiliate Rock Steady Boxing Peoria, in Peoria, Illinois.
Katie Kleist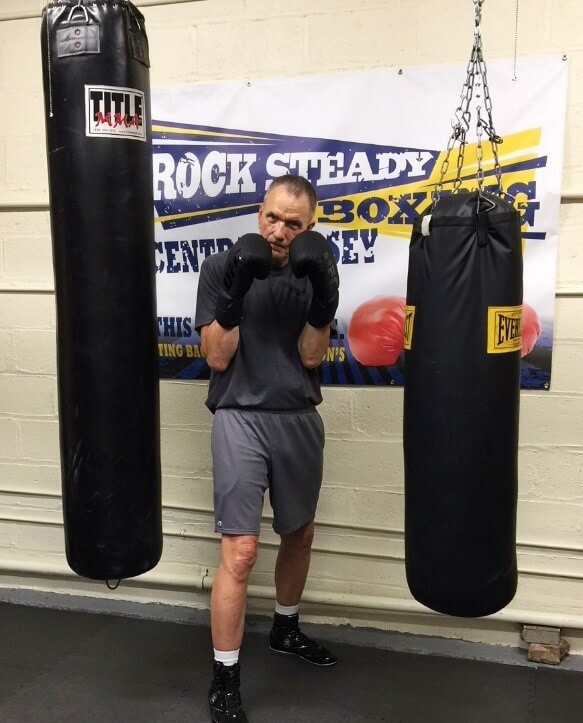 John Kolaya was diagnosed with Parkinson's six years ago at the age of 63. Seemingly overnight, he was losing motor control. Fortunately, John was serving on the Neuroscience Committee at JFK Medical Center and before long he was sitting before a JFK movement disorder specialist. After a thorough exam and a DaTscan of the dopamine concentrations in his brain, the doctor delivered the knockout blow: He had Parkinson's disease!
After getting through the initial phases of shock, disbelief, denial and even "blaming" himself for allowing this disease to take over his body, he began to read everything he could get his hands on, in the process learning about how intense exercise could actually slow the disease. John began to ramp up his workout routine — more kayaking, swimming, weight training, spinning, yoga and Pilates. That seemed to keep his symptoms in check, at least for a few years. But the truth was, he was working very stressful 60-hour weeks as a construction manager in New York City and began to get the sinking feeling that his stress was becoming a major counteracting factor.
After three years of this self-imposed fitness regimen, new symptoms began to surface. That's when he found out about Rock Steady Boxing through his son Tim who had become the chairman of the South Florida Chapter of the Parkinson's Foundation.
Today, John's weekly exercise routine consists of four to five RSB training sessions in Garwood, NJ, two RSB coaching sessions in Edison, NJ, two Pilates sessions, two days of 5K training as well as kayaking, swimming and bicycling! Here is an update we received from John just a few weeks ago:
"Today I had my overdue check up with my movement disorder specialist at JFK medical center. He was aware that I had stopped taking my PD meds six weeks ago, because I was feeling so good from my forced intense exercise, namely Rock Steady Boxing.
I am pleased to report that I have improved quite significantly from my November 2016 examination, which was conducted just prior to my increased focus on Rock Steady Boxing. To give the examination perspective, the worst score you can receive is 108 and the very best score is zero. My score in November 2016 was a 36. Today, I received just two points off on my physical exam and seven points off for symptoms that I verbally told him about, but were not apparent during the exam for a total score of nine!
The doctor was astonished that my symptoms have receded this much from my rigorous exercise regimen. He indicated that he had never seen such improvement in a PD patient in all his years. When I asked him what I should do differently, he quickly said NOTHING. He said, keep doing what you're doing now and keep me informed if there are any changes. He went as far as suggesting that I should be the poster child for RSB and is looking into doing a repeat DaTscan to see how this reversal has been impacted by my dopamine levels." - November, 2017
John Kolaya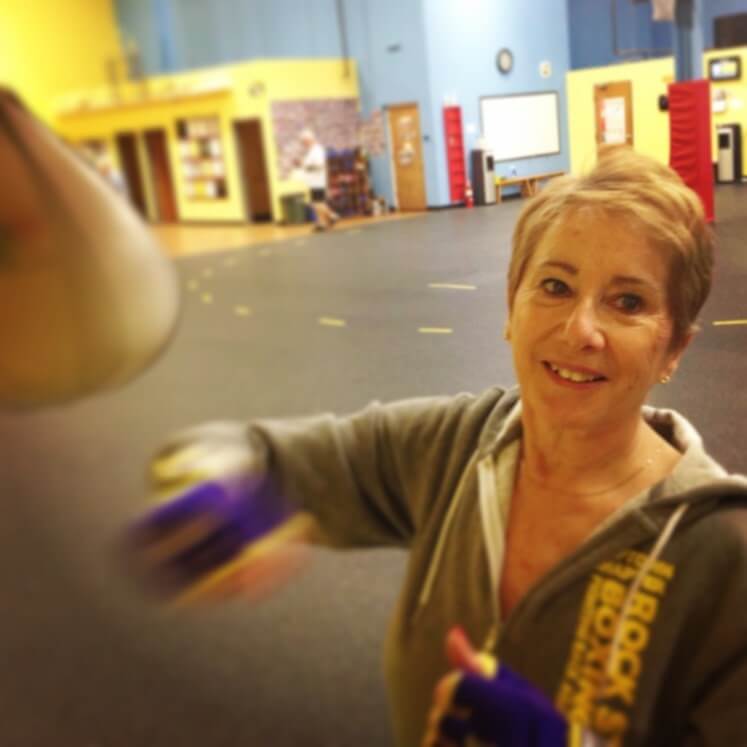 I am so full of hope – and it is exciting to be full of hope.
I was diagnosed with Parkinson's disease 10 months ago, and after that I felt like I had a black cloud hanging over my head. I didn't know what my future was going to bring. Nothing I read about Parkinson's disease made me feel upbeat or positive about my future.
About a month ago I learned about Rock Steady Boxing through a friend. She introduced me to one of the boxers there – she was so excited to get me involved.
So I walked into Rock Steady on that first day – a coach met me in the lobby and asked how she could help. I broke down crying and said, "I have Parkinson's." She hugged me and we sat down. By the time I left Rock Steady – I was already feeling so much better.
Today, I have a new lease on life. I am upbeat, happy, and optimistic – I have HOPE. I have taken control of this disease. It is not controlling me.
The workouts are tough – but I cannot wait to get here each day. The other boxers are so fun – there is lots of teasing and good-natured "harassment" in the gym.
Most importantly, my family is so happy for me. I know it relieves their minds to see me so optimistic and happy… Our family room in our house has started to look like a gym. My husband is even hanging up a speed bag for me. I love to speed bag!
My son came to observe me in class one day. He said, "Mom, you were killing it on the speed bag." Who would have ever thought a 71 year old woman would be starting a boxing career – and loving it so much?
Life is just good.
I can't ask for anything more.
Linda Porter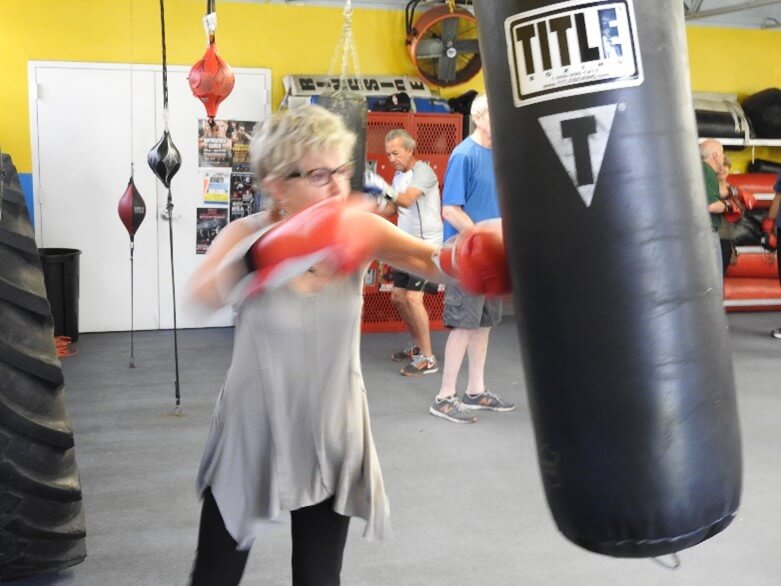 So it's early January and we're in the Florida Keys. My dear husband shows me an article in the Miami Herald about a Rock Steady Boxing program in Miami.
I was diagnosed with Parkinson's disease in 2009, so it sounds good. I call RSB Miami, and a young woman answers the phone and also answers all my questions in a patient, encouraging manner. I go.

I show up and meet a man who is equally as friendly and welcoming. Then this Steve fellow comes along. He is warm, friendly, unassuming and seems sincerely interested in me. I learn that this humble man is Steve Arintok, the owner/manager of all that surrounds me.
I walk over to the boxing gym, and there they all are…my peeps, folks like myself who have been inducted involuntarily into this PD tribe. I am welcomed by a participant who introduces me around. Class begins and we spend the next hour doing a variety of exercises aimed at addressing just about everything PD tampers with (which unfortunately, is just about everything) while we are laughing, straining and working up a serious sweat.
We are supported and tended to lovingly by a committed team of our marvelous care partners along the sidelines. At the end of the class, we end with all hands atop Steve's repeating a mantra of never giving up and not going down without a fight - and this manages to bring me to tears.
My next session is at Tropical Park [RSB Miami's second gym] where we meet and are warmly welcomed to a real deal boxing center. Now this is what I'm talking about! I put on my gloves and I no longer feel like the incredible shrinking woman PD seems to be trying to make of me.
I feel gritty, tough, very much alive and, to quote Coach Steve, "like one badass mo fo."
Steve, with his gentle yet firm encouragement (just when you think you're gonna die, he yells, "thirty more seconds!"), humble strength and patience, and constant messages ("I like what I'm seeing," and "You guys are awesome") pushes us beyond what we believe we are capable of.
Coach Gloria encourages and expertly trains us and truly personifies the shirt she wears that reads Strong is Beautiful, and Coach Dave's unique humor and skilled training is priceless. And then there is Coach Joe who refers to himself as the silent partner, who is the one who works behind the scenes to keep it all afloat.
I can never find the words to thank all of you enough, and so by the powers vested in me…by me, I officially designate you The Rock Steady Boxing Dream Team.
Bonnie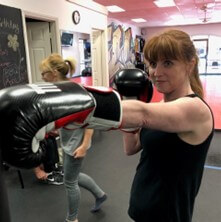 I have known about Rock Steady Boxing for years, but little did I know what a huge role it would play in my life.  I got a phone call from my Dad telling me that my Uncle Joe... who lives in Anderson, Indiana had been recently diagnosed with Parkinson's and was having a difficult time with it.
I knew from being diagnosed in 2010, at the age of 32 what challenges he would have to overcome.  My family made plans to fly in from California for 4th of July holiday in 2015 to have lunch with him and his caregiver.  I work in a Neurology clinic, so I had a ton of resources I could bring him... kind of like a "welcome to the Parkie club" care package.
I sat across from Uncle Joe and with tears streaming down his face, he said, "I don't know what to do." From the information I gathered it appears that his Doctor had just flat out, no emotion dropped the Parkinson's bomb on him.  He wrote Uncle Joe a prescription for Sinemet and told him, "see you in 6 months."
It hurt my heart to know that he was living on a secluded farm, with very little resources available to him, and was thinking his life was over.  I started my search to find him a proper Movement Disorder Specialist, a support group for him to attend and get him up and out of the house.
That's when I remembered that Rock Steady Boxing's home base was in Indianapolis, Indiana... and get this... only 28 miles away! I know that is a little bit of a drive, but to have the opportunity to join such a great program... I had to go visit.
Time for a road trip from my Uncle Joe's farm heading to the big city.  I walk in and see a class of Parkies punching bags and doing cardio exercises.  This would be perfect for my Uncle Joe! I met Kristy and Christine and got the scoop on what this program was all about. That day, I had found a support group and a recommendation for a new Neurologist that specialized in Movement Disorders.  It was all in this community of amazing people.
Now jump to 2019.  I never really thought of joining Rock Steady Boxing (RSB) for myself, even though I was hearing nothing but praises from my Uncle Joe.  But then my health declined (not Parkinson's related) and I had 8 surgeries with anesthesia in a 10-month period for bowel complications. I knew that I couldn't keep up my "boot camp" style classes that I had done before. My body needed to recover and I needed to find a place where I wasn't judged, not pressured to do more than my body could handle and a place that would hold me accountable.
That's when I took the first step and walked into Rock Steady Boxing South Orange County, California.  When I arrived and met Gretchen Westgaard (RSB Coach and Owner) I didn't feel out of place at all.  Everyone was so welcoming.  It was kind of like a secret society that isn't a secret and I instantly feel a part of the group… technically I guess that's just a society but I felt like I belonged.
Over the next couple of weeks, I was learning boxing combos, doing muscle strengthening exercises, working on challenging my brain and my balance improved… but there was something else that I hadn't expected. I became more confident in myself, I learned I could push myself and more importantly, I made friends.  People who held me accountable and encouraged me when things got tough.
There are modifications for any level of mobility so I didn't have to explain to anyone if I couldn't do an exercise or if my Parkinson's was acting like a diva.  It wasn't like going into your local gym and spending so much time on trying to look normal.  I was accepted for who I was and not pushed out because of my limitations, because in the end, we're all there for the same reasons.
As you can imagine, I was hooked… seriously, watch out for my right hook.  Now, I understand that not everyone would be interested in doing Rock Steady Boxing, but there is no excuse not to try it.   You could surprise yourself … you might just be a boxer.  With over 800 affiliates across the nation and growing, it's becoming much easier to find an RSB group near you.
Allison Smith boxes at RSB South OC in Orange County, CA.
Allison Smith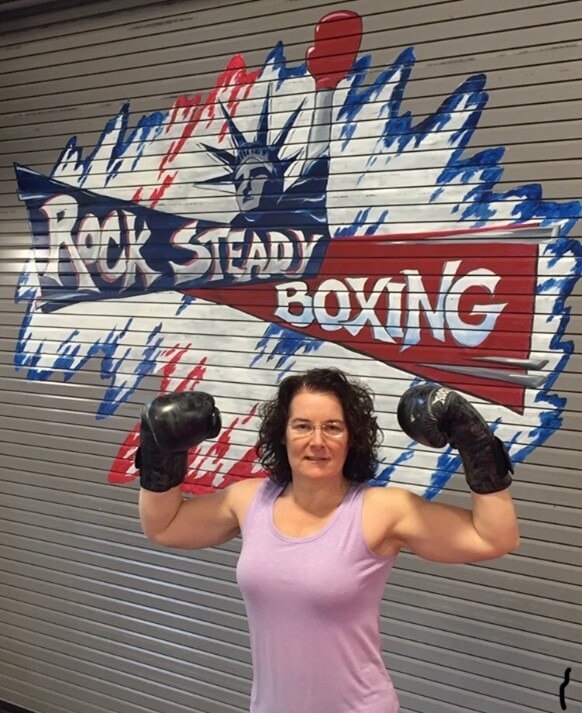 Kris "Krusher" Faubert was diagnosed with Parkinson's disease four years ago at age 51. Over the years, she noticed a tremor in her right thumb and her primary care doctor sent her to a neurologist. Kris was initially misdiagnosed with an essential tremor, and a year and a half later a movement disorder specialist figured out it was actually Parkinson's disease.
After Faubert was diagnosed with PD, she went through a phase of shock, disbelief and fear for her well-being. She only told her family and a few close friends and decided not share her diagnosis with her co-workers fearing they would view her as sick or incapable of doing her job. After a couple of years, she decided to tell them, and they were extremely kind and supportive!
Kris went to RSB South Shore in Rockland, MA in November of 2016 and she was immediately hooked. She remembers questioning her future and deciding to do whatever it took to preserve her health. Today, Kris attends three Rock Steady classes per week and loves the sense of community and the camaraderie and caring nature of her fellow boxers.
RSB has helped Kris stay motivated, fit and has changed her life! In the past, PD minimized her quality of life. Now, she is stronger, agile, confident, kinder and compassionate. "If you have PD, move and keep moving. It is not optional when you're told that the only thing known to stop or slow your progression is exercise. It's a no brainer. EVERYONE CAN DO SOMETHING. Start slow and build, I know it can be scary, but you won't regret it," said Kris. "If you have PD, find a community, a place where there is support and no judgment. It is important to build yourself a good care team. I decided to choose professionals who enable me to do what I want to do, not tell me what I can't do."
This past November, Kris reached one of her goals. A group from RSB participated in a Spartan obstacle course race. They were faced with several challenges, but had the support of each other. It was a milestone that was both meaningful and empowering to her life. Kris plans to continue to do more Spartan races this year and to participate this fall in the New England Parkinson's ride consisting of 10, 30, 50 or 100 miles.
Kris "Krusher" Faubert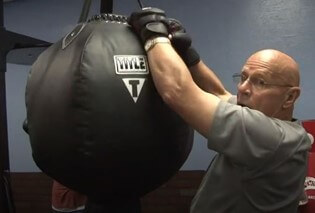 Don't think about it, just do it! That is what Bud Barrett, a boxer at RSB Lodi in California, would tell anyone diagnosed with Parkinson's who hasn't tried Rock Steady Boxing yet.
Bud has been battling the disease for 10 years, but he truly started seeing a change when he enrolled at RSB Lodi in January, 2018. Terrible balance, stiffness, tremors, lots of falls and a lack of confidence were everyday life for him until he started boxing. Now, Bud says his attitude has changed! His attendance in 3-4 classes each week has made him more positive, improved his balance, and his fear of falling has diminished. "Our coach had us write what we hate about Parkinson's on one of our punching dummies, and he reminds us that when we are hitting, THAT is what we are fighting against," said Bud.
Bud says he fights for his family, especially his granddaughter Abbie, whose father passed away after battling the disease for more than two decades.  "My wife Mary and I watched our son fight his battle with Parkinson's for 23 years and there was no help available and no program like this that may have helped him live a little longer. I fight now because I have to be there for my family and my son's daughter Abbie," said Bud. "When I hit, step over something, jump up on a box and even run, I think of Abbie and it gives me that extra strength."
"I also love the new friends I have met and continue to meet and fight back together. I see people come in with walkers, wheelchairs and then to see those same people a few weeks or months later and they aren't using them anymore. That's one of the best parts about RSB," said Bud. "Working out together makes it special. And I really love our Coach Sheldon – he is such a great motivator and very passionate about this program!
 "Rock Steady Boxing helps you get your life back and it also helps all the people who are connected to you. Your family and friends will get back into your life when they see you happy again. Coach Sheldon always says that we don't have the option to quit and that if we do NOTHING we get nothing."
Bud Barrett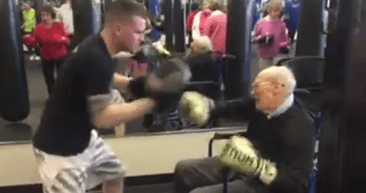 Charlie has been a member Rock Steady Boxing Pittsburgh and Fit 4 Boxing Club for over a year. When he first came to RSB Pittsburgh, he was wheelchair-bound and worried that he would never walk again. After lots of hard work, determination, and enthusiastic motivation, he proved to himself and to his coaches that he was not your standard 88 year old man. He had lots of fight left in him! He now gets out of his wheelchair to walk, stretch, and even punch the bag!

Rock Steady Boxing is an emotionally intense and physically demanding exercise program designed to help folks living with Parkinson's disease. At affiliate location Rock Steady Boxing Pittsburgh, there are over 150 fighters with Parkinson's boxing with them to improve their quality of life four days a week through non-contact boxing training.
RSB Pittsburgh's video of Charlie, punching in his wheelchair, went viral on Facebook. Reaching over 2 million views and more than 25,000 shares in just the first week, "Charlie the Champ" is becoming an internet sensation and inspiring others all over the world to stand up and fight back against Parkinson's disease.
Charlie the Champ